The Holy Spirit is present here on this earth with us today!!!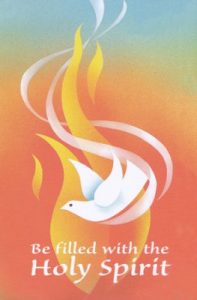 Once you have repented of your sins and have accepted Jesus as your personal Lord and Savior, believing that He died on the cross and arose again to sit at the right hand of the Father.  We can receive the baptism of the Holy Spirit and fire.
You cannot do anything effectively in Gods Kingdom without the baptism of the Holy Spirit and fire.  You cannot live the life that Jesus wants you to live unless you have received the baptism of the Holy Spirit and fire.  When you pray, ask God to baptize you in the Holy Spirit and fire, with the evidence of it being that you speak in other tongues, and He will answer your prayer.  Go to Luke 11:9. God says "ask, and it will be given to you, seek, and you will find, knock, and the door will be opened to you. For everyone who asks receives, and he who knocks, it will be opened. Or what man is there among you who, if his son asks for bread, will give him a stone? Or if he asks for a fish, will he give him a serpent? If you then, being evil, know how to give good gifts to your children, how much more will your heavenly Father who is in heaven give the Holy Spirit to those who ask Him!
Jesus did not start His ministry until He had received the Holy Spirit. "When He had been baptized, Jesus came up immediately from the water, and behold, the heavens were opened to Him, and He saw the Spirit of God descending like a dove and alighting upon Him" (Mathew 3:16). "Then Jesus was led up by the Spirit…….." (Matthew 4:1).  In order for you to be led and directed by the Holy Spirit, you must be baptized with the Holy Spirit and fire. "and the Holy Spirit descended in bodily form like a dove upon Him,……"(Matthew 3:16). "I baptize you with water for repentance. But after me will come one who is more powerful than I, whose sandals I am not fit to carry. He will baptize you with the Holy Spirit and in fire". Luke 3:16
You must be baptized in the Holy Spirit and fire to walk in the power of God and to defeat satan and the demons that will come against you. Before Jesus sent out the disciples and the others in the upper room, He told them to tarry (do not do anything, do not preach, do not teach, do not heal the sick, do not travel, do not battle with satan and his demons) until you are endued (filled with power) from on high. "Behold, I send the Promise of My Father upon you; but tarry in the city of Jerusalem until you receive power from on high…..and they were continually in the temple praising and blessing God". Luke 24:49
You will receive because God said you will.  Just ask, believe, receive, praise Him and bless Him.
"When the day of Pentecost came, they were all together in one place. Suddenly a sound like the blowing of a violent wind came from heaven and filled the whole house where they were siting. They saw what seemed to be tongues of fire that separated and came to rest on each of them. All of them were filled with the Holy Spirit and began to speak in other tongues as the Spirit enabled them". Acts 2:1-4. You can have an experience like this but but when Jesus told them to tarry in the city, He did not talk about the experience, He talked about them receiving power from on high. You will receive the Holy Spirit with the evidence of speaking in other tongues. Just believe.
"In the last days, God says, I will pour out my Spirit on all people. Your sons and daughters will prophesy, your young men will see vision, your old men will dream dreams. Even on my servants, both men and women, I will pour out My Spirit in those days, and they will prophesy. I will show wonders in the heaven above and signs on the earth below, blood and fire and pillows of smoke. The sun will be turned to darkness and the moon to blood before the coming of the great and glorious day of the Lord. And everyone who calls on the name of the Lord will be saved". Acts 2:17-21.
"Therefore let all Israel be assured of this: God has made this Jesus, whom you crucified, both Lord and Christ. When the people heard this, they were cut to the heart and said to Peter and the other apostles, brothers, what shall we do? Peter replied, Repent and be baptized, everyone of you, in the name of Jesus Christ for the forgiveness of your sins, And you will receive the gift of the Holy Spirit. The promise is for you and your children and for all who are far off, for all whom the Lord our God will call. With many other words he warned them; and he pleaded with them, save yourselves from the corrupt generation. Those who accepted His message were baptized, and about three thousand were added to their number that day. Acts 2:36-41
You are being called by God today. Ask, believe, and receive the baptism of the Holy Spirit and in fire. Open your mouth, start to speak (having faith) and the Holy Spirit will do the rest.
And they were all filled with the Holy Ghost, and began to speak with other tongues, as the Spirit gave them utterance. Acts 2:4
I would that you all spake with tongues but rather that you prophesied: for greater is he that prophesieth than he that speaketh with tongues, except he interpret, that the church may receive edifying. 1Corinthians 14:5
I thank my God, I speak with tongues more than you all. 1Corinthians 14:18 The apostle Paul make that statement.
Who is the Holy Spirit?
The third person of the Holy Trinity, your comforter, sent by God at the request of Jesus. John 14:15, If you love me, keep my commandments. and I will pray the Father, and He shall give you another Comforter, that He may abide with you forever; even the Spirit of truth; whom the world cannot receive, because it seeth him not, neither knoweth him: but you know Him; for He dwelleth with you, and shall be in you.
John 14:26, But the Comforter, which is the Holy Ghost, whom the Father will send in my name, He shall teach you all things, and bring all things to your remembrance, whatsoever I have said unto you.
Here is something that Jesus has said to us all.  Verily, verily, I say unto you, he that believeth on Me, the works that I do shall he do also; and greater works than these shall he do; because I go unto My Father and whatsoever, you shall ask in my name, that will I do, that the Father may be glorified in the Son. If you shall ask anything in my name, I will do it. John 14:12-14